You are here
Back to top
With Any Luck I'll Drive a Truck (Paperback)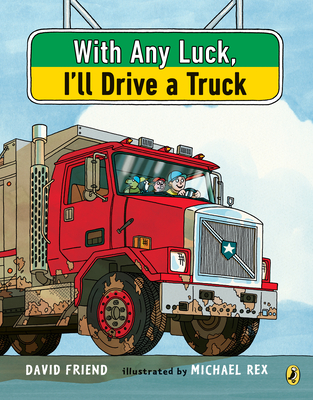 Description
---
New York Times bestselling illustrator Mike Rex's vivid, vehicle-filled scenes are the perfect match for this enthusiastic celebration of big rigs and big imaginations.
 
Bulldozers and back-hoes, pavers and plows, trailers and tractors--the world is filled with so many types of trucks! Imagine the fun you could have if you could drive them all! And what if you could bring your best friends along with you? Hop along for a thrilling ride! This playful romp is sure to delight truck lovers everywhere!
About the Author
---
David Friend (davidfriend.net), Vanity Fair's editor of creative development, is the author of Watching the World Change: The Stories Behind the Images of 9/11. He won Emmy and Peabody Awards as an executive producer of the CBS documentary 9/11. He is also an editor of Vanity Fair's Hollywood, Oscar Night, and Vanity Fair, The Portraits. He lives in New Rochelle, New York.
 
Michael Rex (www.michaelrex.com) has written and illustrated over twenty children's books, including the New York Times #1 bestseller Goodnight Goon, The Runaway Mummy, Truck Duck, and the Fangbone series. He has a master's degree in visual arts education (K-12) and worked as a New York City art teacher for four years. He visits schools across the country, and has appeared on The Celebrity Apprentice as a guest illustrator. He lives in Leonia, New Jersey, with his wife and their two sons.
Praise For…
---
"Targets the mad-about-the-backhoe-and-big-rig set . . . a wrecking ball to delight kids and destroy boredom. Dream big, kids."—Vanity Fair

"Sometimes it seems there are as many truck books published as there are actual trucks on the Interstate, with most about as subtle as an 18-wheeler's horn blast. But this smoothly rhyming ode to heavy equipment . . . is a refreshing treat. . . . Rex's brightly colored, slightly rounded vehicles strike a kid-friendly balance between realistic and toy-like."—The New York Times

* "A delightful ode to trucks goes above and beyond the usual churning, wrecking, and pounding. Cheery rhyming text. . . . All the favorites are here, with some mechanical monsters lauded less often in books of this sort. . . . Friend's rhymes produce a one-of-a-kind mighty litany of machines. These words pair neatly with Rex's art; his cartoonish style renders each vehicle with a meticulousness that will meet the approval of even the strictest vehicle enthusiast. Lucky indeed are the kids who get to indulge in this splendid little wish-fulfillment daydream."—Kirkus Reviews, starred review

"A cheeky poem of a picture book, in which a boy proudly describes his prowess as he helms several trucks, trailers, and construction vehicles. Humorously colloquial rhymes are well-matched to the mischief on display as the boy—accompanied by a turtle, penguin, and pig—engages in construction and demolition, occasionally saving the day. . . . Rex's (Goodnight Goon) digitally colored ink cartoons are full of vehicular action and mechanical details, from the dirt-caked treads of a wrecking ball to the gleam of an 18-wheeler's mesh grille, cast by the truck's headlights."—Publishers Weekly

"The rhythmic, rhyming text has just enough detail to keep kids engaged without slowing down the pace. . . . This colorful picture book is prime material for kids yearning to tackle tough jobs with a little help from big machines."—Booklist